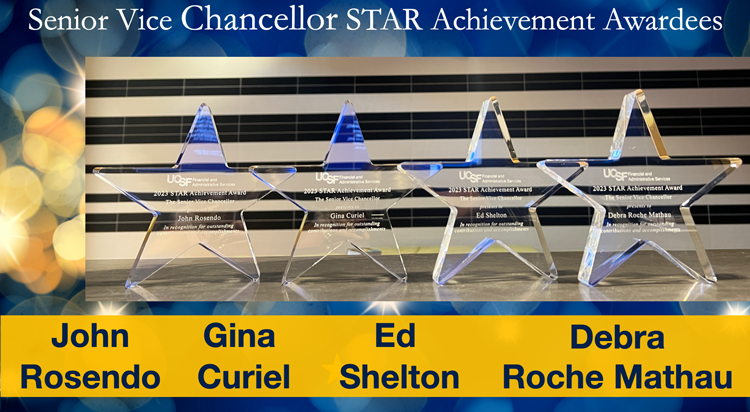 Inspiration and achievement come from all levels of our organization. With great PRIDE, every year we honor Senior Vice Chancellor STAR Awardees for their contributions to the FAS True North and the Chancellor's Goals, and for enhancing our culture by demonstrating PRIDE Values in their daily interactions. 
Meet the 2023 SVC STAR Awardees

John Rosendo
Campus Life Services, Facilities
Energy Analyst (P3)
CLS Facilities Energy manager John Rosendo has stepped up to many challenges in the past six years - tirelessly keeping costs down, finding ways to save our planet through renewable energy, and helping our research community safeguard their experiments. He helps others to reduce their workloads and speed up their timelines for project delivery, using best practices and innovative processes in financial reporting and energy reporting constructs. He collaborates across departments primarily with Facilities Services, Sustainability, Housing Services, Real Estate, and our own Infrastructure Programs; however, his impact is felt across UCSF and the planet. John is constantly sought out for his knowledge in a variety of areas including Strategic Energy Partnership funding in which he has appropriated over $25 million dollars over five years. In his working with UCOP, he works with policy issues and renewable generation contracts, building relationships at the UC level, showcasing the Chancellor's priorities of continuous learning and transformative relationships. John's adept mastering of Resource Management and Stewardship is on display with every dollar he saves, kilowatt hour he converts, freezer he upgrades, and carbon emissions tons he reduces.
From the selection committee:
"John's behind-the-curtain work often gets overlooked; his ability to improve energy expenditure in the current climate environment should be applauded especially while positively impacting the UCSF budgets."  
---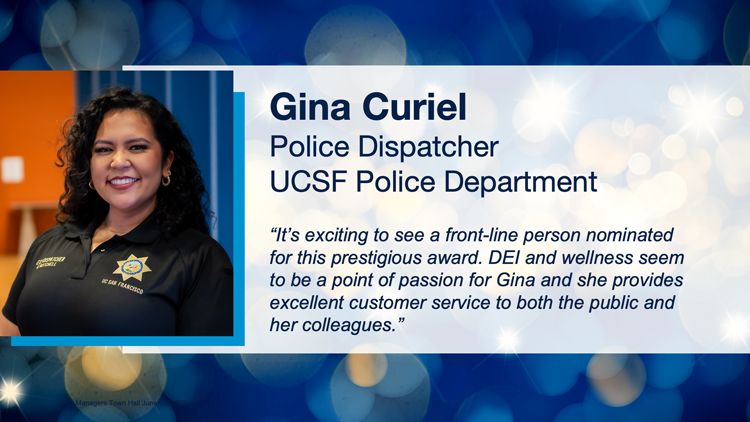 Gina Curiel
UCSF Police Department
Police Dispatcher (CX)
Police dispatcher and wellness champion Gina Curiel, only the second represented staff to be nominated for this award, goes beyond her critical job focused on the safety of the UCSF community to also care for the well-being of her extremely stressed-out colleagues. Her positive energy has made meaningful impact on the PD culture. Gina is motivated to bolster the morale of not only her dispatch team but the entire PD organization. She understands the needs of the department and her division and has obtained several wellness grants to be able to fund diversity, equity and inclusion initiatives. She wrote, submitted and received approval for two wellness grants, securing funds for a kickball team, treadmills and standing pads for workstations. To support belonging and inclusion, she created a Care Space/Zen Den to allow folks from various religions to have space for prayer at work. More recently, Gina reached out and offered to help with employee engagement, becoming an Employee Engagement Ambassador. Gina volunteers her time and encourages her peers to do the same. Above all, she demonstrates the great impact staff can have toward the UCSF no matter where they sit in the organization.
From the selection committee:
"It's exciting to see a front-line person nominated for this prestigious award. DEI and wellness seem to be a point of passion for Gina, and she provides excellent customer service to both the public and her colleagues."
---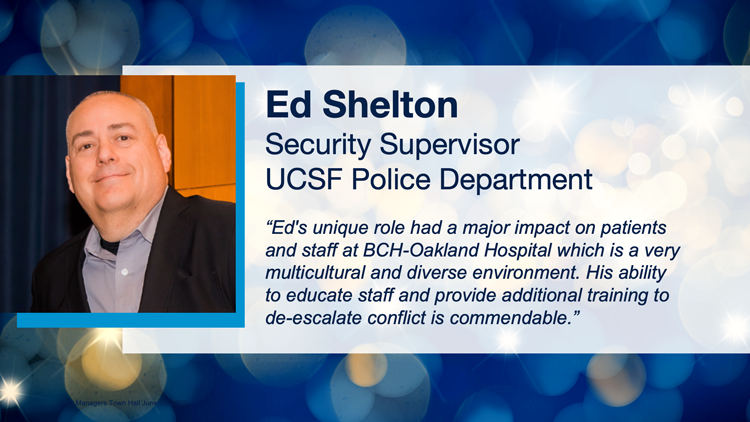 Edwin "Ed" Shelton
UCSF Police Department
Security Supervisor (S1)
When Benioff Children's Hospital Oakland Security Manager Ed Shelton transitioned to the role from UC Hastings, he identified a need to strengthen the workforces' ability to deal with highly emotionally charged situations and has been able to improve and shape the culture surrounding training. According to an FY21 BCH-Oakland Patient Care Data, 51% self-identified as "Black" and "Latinx with 19.9% self-identifying "Spanish" as their primary language. He knew it was critical to give staff the tools to properly address language barriers and interactions with marginalized communities, many from economically challenged backgrounds with a mistrust of authority, and difficulty navigating a complicated health system. Patients' frustrations and anger may be misinterpreted as negative outburst or defiance when there may be more beneath the surface. Ed understood that a strong focus to any safety training should primarily focus on verbal de-escalation tactics vs physical techniques. Ed has been critical in the development and implementation of crisis and de-escalation training through programs from the Crisis Prevention Institute (CPI). Ed's vision and innovation directly led to over 150 people being trained throughout all of UCSF, including BCH-Oakland, UCOP, and, in the next few months, UCSF Fresno.
From the selection committee:
"Edwin's unique role had a major impact on patients and staff at BCH-Oakland Hospital which is a very multicultural and diverse environment. His ability to educate staff and provide additional training to de-escalate conflict is commendable."  
---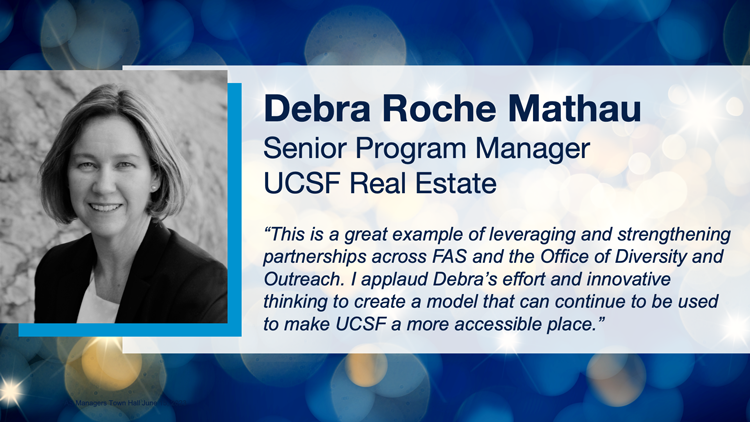 Debra Roche Mathau
UCSF Real Estate
Senior Program Manager (P5)
UCSF Real Estate Senior Project Manager Debra Roche Mathau created a multi-department group of accessibility champions (Accessibility Coordination Group) and led the UCSF ADA Transition plan, allowing efficient methods to track ADA compliance within projects or add visibility to specific ADA barriers to projects, all integrated within our businesses processes. ADA barriers are the responsibility of many departments across UCSF. Debra has built partnerships with Finance, Facilities, Transportation, and the Office of Diversity and Outreach to develop financial, policy, and implementation support to meet our accessibility goals. Debra collaborates closely with the UCSF Chief Diversity Officer, Health and Campus Facilities partners, Transportation partners, and Housing partners as well as the Budget office to create a capital plan to support this program. Prior to the creation of the Accessibility Coordination Group and the ADA Transition plan, there was a perception that no progress was being made on these issues. The long-term efforts of this project will resolve over 12,000 unique issues that have been identified across the UCSF campus, impacting the entire UCSF enterprise, patients and their families and the broader Bay Area community.
From the selection committee:
"This is a great example of leveraging and strengthening partnerships across FAS and the Office of Diversity and Outreach. I applaud Debra's effort and innovative thinking to create a model that can continue to be used to make UCSF a more accessible place."