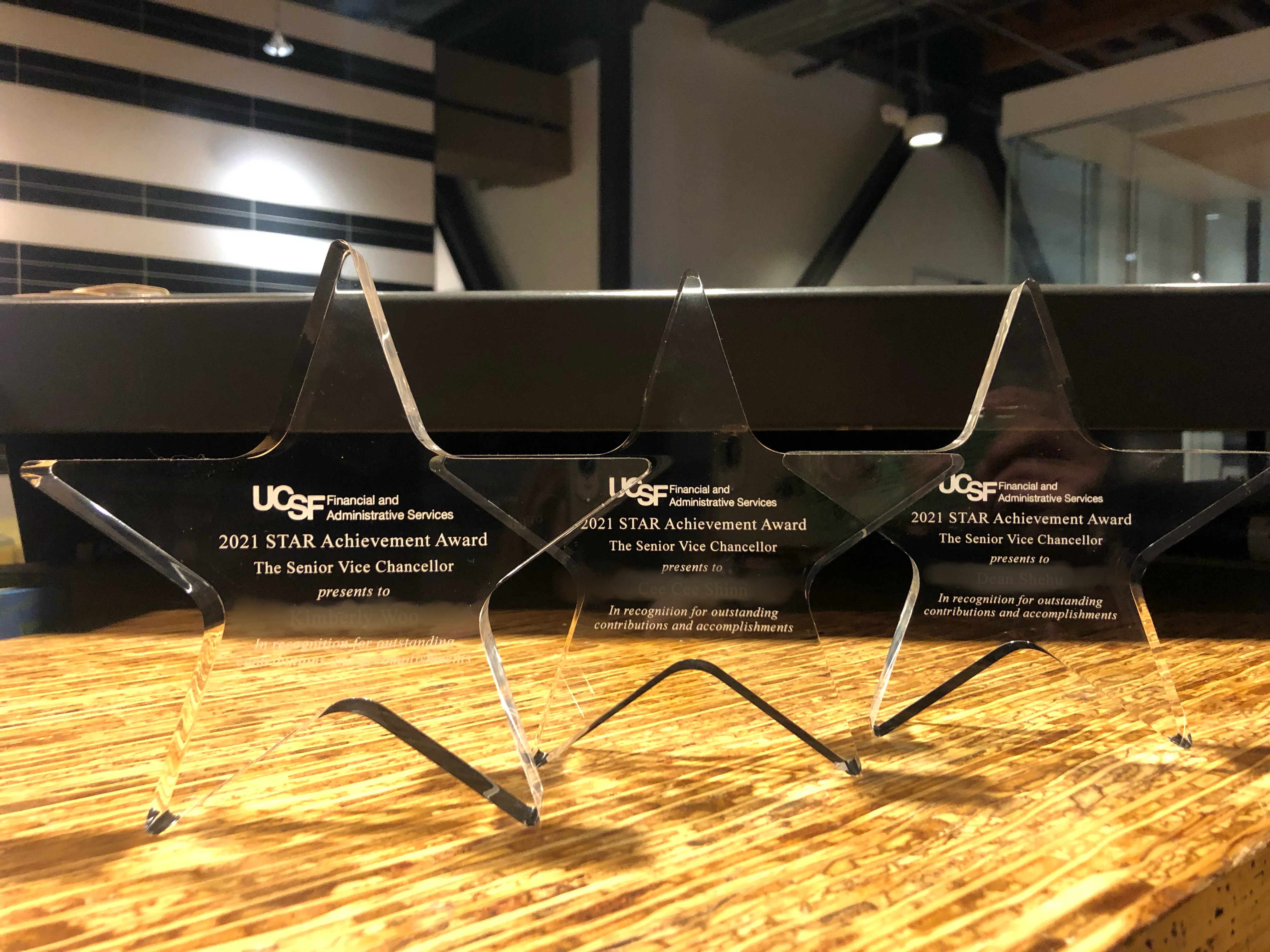 Inspiration and achievement come from all levels of our organization. With great PRIDE, every year we honor three Senior Vice Chancellor STAR Awardees for their contributions to the FAS True North and the Chancellor's Goals, and for enhancing our culture by demonstrating PRIDE Values in their daily interactions. In support of the UCSF mission, awardees embrace their roles to create an environment where people can do their best–to help staff learn and grow, focus on continuous improvement and be good stewards of our resources. 
SVC STAR Awardees  
2022 - Kathleen Yumul Campus Life Services, Sarah Fidelibus Program Management Office, Jeff Jang Controllers Office
2021 – CeeCee Shin Campus Life Services, Dean Shehu UCSF Finance, Kim Woo Real Estate 
2020 – Esther Carmona Human Resources, Adam Schnirel Campus Life Services, Mono Simeone Real Estate  
2019 – Jenn Chan Program Management Office, Elicia Rozic Campus Life Services, Audrey Yu Finance  
2018- Emmy Chico Real Estate, Art Gong UCSF Finance, César Sanchez Campus Life Services
2017 – Aron Lewis Human Resources, Eli Perszyk Campus Life Services, Nisa Sampior Real Estate  
2023 SVC STAR Award nomination process 
Each FAS level 2 department (FET level) can nominate two employees (one P3 and below one by P4 and above) by Monday, April 3, 2023. Nominations will be vetted by the SVC STAR Committee and a recommendation will be sent to FET via email. 
See the SVC STAR Award nomination page to see criteria, key dates and committee members.