With a planning process underway to re-envision Parnassus Heights and a new hospital on the horizon, change to the spaces that support our learning, teaching, patient care, and research is going to be part of the UCSF experience for many years to come.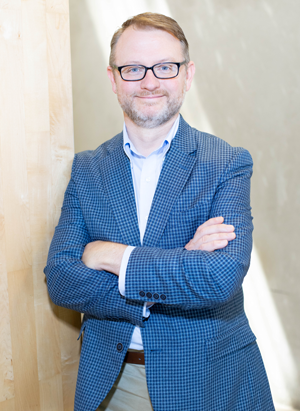 A new leader is set to join UCSF in August to help manage these changes. Senior Vice Chancellor Finance and Administration Paul Jenny and UCSF Health President & CEO Mark Laret announced that Brian Newman will be senior associate vice chancellor of UCSF Real Estate/vice president, UCSF Health. This position oversees a newly formed unit that brings together UCSF Real Estate (formerly known as Real Estate, Planning & Capital Programs) and UCSF Health Design and Construction. This integrated unit will enable better alignment of development, planning, design, construction, and management of all space across UCSF.
"It's imperative for us to leverage our services, whenever we can, across the entire UCSF organization, " said Laret. "Brian brings a depth and breadth of experience in real estate development and planning. His understanding of complex academic health organizations will be particularly valuable as we move forward with projects at UCSF." Newman comes to UCSF from Oregon Health & Science University in Portland, Oregon, where he currently serves as vice president of Campus Development. OHSU is the largest employer in the city with three campuses, over 16,000 employees, 4,500 students and trainees in five schools, and 8 million square feet of facilities including two hospitals with 576 licensed beds, multiple research centers and institutes, and numerous outpatient clinics.
Newman has overseen the planning and development of OHSU's new 32-acre campus on Portland's South Waterfront, with over 2 million square feet of clinical, academic, and research facilities. Prior to joining OHSU, he spent 15 years as a planning consultant and elected official working on land use and transportation projects in the Portland metro area. He has a master's degree in city and regional planning from the University of California, Berkeley.
At UCSF, Newman will oversee all campus real estate, planning, and capital construction activities, as well as UCSF Health-Major Capital Projects and the Design and Construction Division of UCSF Health Facilities and Support Services. "I look forward to helping shape the physical growth of UCSF, focusing on the delivery of high- quality and high-functioning work spaces and patient care areas. At the end of the day, our facilities should mirror UCSF's reputation as a world-class institution while creating spaces that are welcoming, easy to navigate and sensitive to our neighbors," he said.
SVC Jenny shares Newman's enthusiasm for what's to come for UCSF. "Brian's leadership of a new department comes at an exciting time as we have significant projects under construction at Mission Bay and have started a long-term planning process for renewing Parnassus Heights, including building the UCSF Helen Diller Medical Center at Parnassus Heights," said Jenny.